On another Forum a fellow commented on his desire to use some 1:148 buildings on an N scale layout, and wondered whether they would look over-sized.
There are times when slightly out of scale structures will not look out of place on a layout.
For example, often buildings of slightly other scales will work with 1:160. If you look around (not in modern, Boxes made of Ticky Tacky type developments) you will see a wide variation in sizes of doors and windows. I would think that a building of 1:148 would look just fine, especially a commercial or industrial or public building like a station. I have a Faller model of the Castle Lichtenstein that is sold as N scale, but to my eye looks like Z scale - 1:220. It looks okay at the back left corner of my layout, giving a little forced perspective:
The building at the left, with the tower, is the Faller model. I carved the outlying buildings and fortifications from blue/pink foam in relatively the same scale. Z scale (1:220) is so different size-wise from N that I had to use it with no other N scale buildings nearby. But I would think that a station or commercial building at 1:148 would be fine right next to a 1:160 building. Normally a Z scale building will look too miniscule on an N scale layout. But set to the back, with no other structures around, it works.
When you think about relative differences, 1:148 (UK N scale) is only 7.5% larger than 1:160, while Z scale, 1:220, is 37.5% smaller. In order to make Schloss Lichtenstein work, I had to remove a Vollmer N scale house from the back corner which dwarfed the castle. Then the question was, what to do with the hole left by the foundation of the house? Rather than create yet another Z scale structure, I made a small formal garden: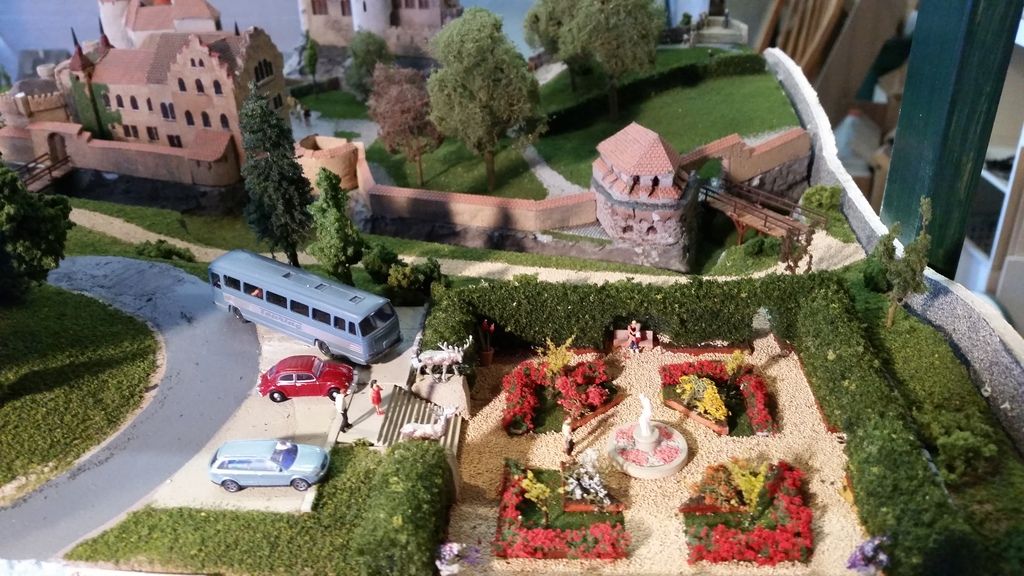 And the 1:148 scale VW bug looks good next to those Preiser 1:160 people.