Henley
 An OO fan since 1966, when I was literally in short pants, Electrotren has slowly been blended to the mix present upon the OO British layout, "Henley." The reality is that most of my North American compadres do not distinguish between the UK and the Continent, Spain, Italy, France...all the same if it has buffers. So it is that some Electrotren pieces and one Lima Italian State Railways piece have found their way into British Henley. I really do have a great fondness for Electrotren; the pieces are unique, pleasantly detailed, and surprisingly rugged. 
  I had been posting different titles for each entry, but as I do these little videos, for my own amusement, on a rather regular basis, I've grouped them under one heading: "Henley." There are a few more Continental pieces I'd like to acquire from Reynauld's. 

Moving Brits and Twigs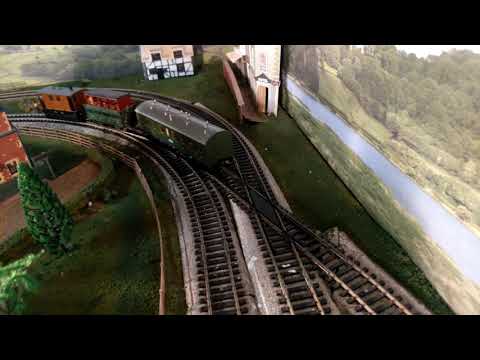 In this video, my beloved Electrotren olive oil amphorae wagons have a nice run. Also, I am delighted with Jouef covered wagon, sporting SNFC (what's dat??) and lastly, a most splendid find: an Electrotren faggot wagon. What? Did I write "faggot?" Well, yes, bundles of sticks are known as faggots. What on Earth did you think I meant??? The title is slightly less jarring, excuse the pun, than "Moving Brits and Faggots," isn't it? The fact that this video corresponds with the UK's LGBQT Day, or week, or month, or whatever, is merely a coincidence, however alarming.